St. Augustine's Annual Plant Sale is online this year.
June 6 to June 30
Contact-free pick-up & delivery!
Shop our catalog for hardy, locally sourced perennials, herbs, trees, shrubs, vegetables and fruits!
Click below for the Sale Catalog (Updated June 20th):
To place an order email: StAugPlantSale2020@gmail.com
Once again, St. Augustine's is joining the wider church's Good Book Club to read the Bible. During the Easter season we will read the Gospel of Matthew together.
How to Participate
All you really need to participate is to get your hands on a Bible. Mother Jenny recommends the Harper-Collins NRSV Study Bible. The translation we most frequently read and study in church is the New Revised Standard Version (NRSV). We are starting a week late, which means we'll run into the first week of Pentecost.
The schedule of readings begins on April 19th, the Second Sunday of Easter. It can be found below.
Follow St. Augustine's on Facebook and on Instagram @stascroton for regular updates and insights.
Read along with Forward Movement's A Journey with Matthew. This book is available for purchase from Forward Movement and as an eBook on Amazon. Each daily reading is accompanied by a reflection.
Join us for Zoom Bible Studies as we schedule them throughout the season. Keep an eye out for announcements in our weekly emails and on our website.
Schedule of Readings
SUNDAY April 19
Matthew 1:1-25
MONDAY April 20
Matthew 2:1-23
TUESDAY April 21
Matthew 3:1-17
WEDNESDAY April 22
Matthew 4:1-22
THURSDAY April 23
Matthew 4:23-5:20
FRIDAY April 24
Matthew 5:21-48
SATURDAY April 25
Matthew 6:1-18
SUNDAY April 26
Matthew 6:19-34
MONDAY April 27
Matthew 7:1-20
TUESDAY April 28
Matthew 7:21-8:13
WEDNESDAY April 29
Matthew 8:14-34
THURSDAY April 30
Matthew 9:1-26
FRIDAY May 1
Matthew 9:27-10:15
SATURDAY May 2
Matthew 10:16-42
SUNDAY May 3
Matthew 11:1-24
MONDAY May 4
Matthew 11:25-12:21
TUESDAY May 5
Matthew 12:22-45
WEDNESDAY May 6
Matthew 12:46-13:23
THURSDAY May 7
Matthew 13:24-43
FRIDAY May 8
Matthew 13:44-58
SATURDAY May 9
Matthew 14:1-21
SUNDAY May 10
Matthew 14:22-15:11
MONDAY May 11
Matthew 15:12-28
TUESDAY May 12
Matthew 15:29-16:12
WEDNESDAY May 13
Matthew 16:13-28
THURSDAY May 14
Matthew 17:1-20
FRIDAY May 15
Matthew 17:22-18:14
SATURDAY May 16
Matthew 18:15-35
SUNDAY May 17
Matthew 19:1-22
MONDAY May 18
Matthew 19:23-20:16
TUESDAY May 19
Matthew 20:17-34
WEDNESDAY May 20
Matthew 21:1-22
THURSDAY May 21
Matthew 21:23-46
FRIDAY May 22
Matthew 22:1-22
SATURDAY May 23
Matthew 22:23-46
SUNDAY May 24
Matthew 23:1-22
MONDAY May 25
Matthew 23:23-39
TUESDAY May 26
Matthew 24:1-22
WEDNESDAY May 27
Matthew 24:23-41
THURSDAY May 28
Matthew 24:42-25:13
FRIDAY May 29
Matthew 25:14-30
SATURDAY May 30
Matthew 25:31-46
SUNDAY, May 31
Matthew 26:1-16
MONDAY June 1
Matthew 26:17-35
TUESDAY June 2
Matthew 26:36-56
WEDNESDAY June 3
Matthew 26:57-75
THURSDAY June 4
Matthew 27:1-23
FRIDAY June 5
Matthew 27:24-44
SATURDAY June 6
Matthew 27:45-66
SUNDAY June 7
Matthew 28:1-20
Along with the other communities of faith in Croton-on-Hudson, St. Augustine's is participating as a host of the CCC Senior Luncheon on Saturday, March 7th in the Municipal Building at noon. St. A's is responsible for bringing the entree, Baked Ziti (each casserole to feed approximately 10 people). Please let us know if you are able to contribute a pan of Baked Ziti or would like to volunteer to help serve by contacting our office at by email (office@stacroton.org) or phone (914-271-3501).
Click here to find Mother Jenny's favorite Baked Ziti recipe if you need inspiration!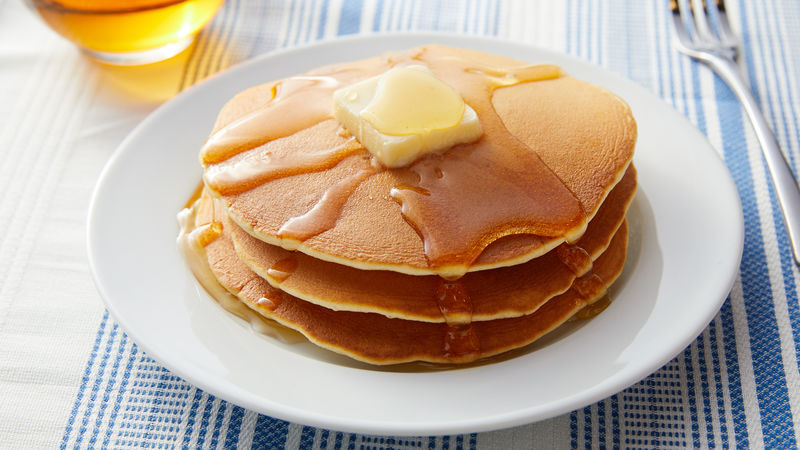 Before we bear the sackcloth and ashes of Lent we will gather to celebrate our common life and fellowship with this fun family event. We'll have:
Pancakes (plain, chocolate chip AND blueberry)
Bacon & Sausage
Fruit Salad
Plus other yummy breakfast treats!
Kid's activities
Beads & masks!!!
Please click here to RSVP and/or volunteer to help with this exciting event!!
The Presiding Bishop of the Episcopal Church, Michael Curry, and Forward Movement are inviting churches to participate in the Good Book Club's study of the Gospel of John during the season of Epiphany (January – February).
St. Augustine's is excited to join this study to immerse ourselves in God's word during the season when we reflect on how God has been revealed to us in the Incarnation of Jesus Christ.
How to participate
All you really need to participate is to get your hands on a Bible. Mother Jenny recommends the Harper-Collins NRSV Study Bible. The translation we most frequently read and study in church is the New Revised Standard Version (NRSV). You can also find a number of apps for your smartphone and online resources for reading the Bible.
Rector's Bible Study on Sundays – Join us in the Parish House during Coffee Hour (9:45 am) on scheduled Sundays to talk about the week's readings. January 12, 19; February 2, 23.
Thursday Brown Bag Bible Study, 12:00 pm – 1:00 pm – This group will meet weekly January 9 – February 13 to study the Gospel of John together. Bring your lunch with you and we'll discuss the Gospel of John together.
The schedule of readings begins on January 6th, the Feast of the Epiphany. It can be downloaded here. You can find the daily readings with links to the chapters and verses here.
Handouts with brief cartoon and written reflections will be provided in church and in our weekly emails.
Follow St. Augustine's on Facebook and on Instagram @stascroton for regular updates and insights.
Participate in a free Webinar taught by Montreal Theological College Principal (and Andrew Owen's Godfather!!) The Rev. Dr. Jesse Zink on January 13th at 7pm. Information can be found here.
Additional resources and opportunities for engagement are also available on The Good Book Club website.
We look forward to embarking on this study as a community in 2020! Please contact Mother Jenny if you have any questions.
Join us 4pm-7pm on October 19th for food and fun for all ages. Details below. To RSVP email office@stacroton.org.
I give you a new commandment, that you love one another. Just as I have loved you, you also should love one another. By this everyone will know that you are my disciples.

John 13:34-35
Worship, Prayer and Fellowship offerings today:
9:00 am Morning Prayer
6:30 pm Agape Meal, Parish Hall
7:30 pm Maundy Thursday service including Foot Washing and Stripping of the Altar
8:30 pm All night Vigil at the Altar of Repose begins
If you cannot join us for our worship offerings today, you are invited to enter into the devotions of the day with the prayer for Maundy Thursday and our scripture readings.
Collect for Maundy Thursday: Almighty Father, whose dear Son, on the night before he suffered, instituted the Sacrament of his Body and Blood: Mercifully grant that we may receive it thankfully in remembrance of Jesus Christ our Lord, who in these holy mysteries gives us a pledge of eternal life; and who now lives and reigns with you and the Holy Spirit, one God, for ever and ever. Amen.
Exodus 12:1-14, The Lord said to Moses and Aaron in the land of Egypt: This month shall mark for you the beginning of months; it shall be the first month of the year for you. Tell the whole congregation of Israel that on the tenth of this month they are to take a lamb for each family, a lamb for each household. If a household is too small for a whole lamb, it shall join its closest neighbour in obtaining one; the lamb shall be divided in proportion to the number of people who eat of it. Your lamb shall be without blemish, a year-old male; you may take it from the sheep or from the goats. You shall keep it until the fourteenth day of this month; then the whole assembled congregation of Israel shall slaughter it at twilight.They shall take some of the blood and put it on the two doorposts and the lintel of the houses in which they eat it. They shall eat the lamb that same night; they shall eat it roasted over the fire with unleavened bread and bitter herbs. Do not eat any of it raw or boiled in water, but roasted over the fire, with its head, legs, and inner organs. You shall let none of it remain until the morning; anything that remains until the morning you shall burn. This is how you shall eat it: your loins girded, your sandals on your feet, and your staff in your hand; and you shall eat it hurriedly. It is the passover of the Lord. For I will pass through the land of Egypt that night, and I will strike down every firstborn in the land of Egypt, both human beings and animals; on all the gods of Egypt I will execute judgements: I am the Lord. The blood shall be a sign for you on the houses where you live: when I see the blood, I will pass over you, and no plague shall destroy you when I strike the land of Egypt. This day shall be a day of remembrance for you. You shall celebrate it as a festival to the Lord; throughout your generations you shall observe it as a perpetual ordinance.
1 Corinthians 11:23-26, For I received from the Lord what I also handed on to you, that the Lord Jesus on the night when he was betrayed took a loaf of bread, and when he had given thanks, he broke it and said, 'This is my body that is foryou. Do this in remembrance of me.' In the same way he took the cup also, after supper, saying, 'This cup is the new covenant in my blood. Do this, as often as you drink it, in remembrance of me.' For as often as you eat this bread and drink the cup, you proclaim the Lord's death until he comes.
John 13:1-17, 31b-35, Now before the festival of the Passover, Jesus knew that his hour had come to depart from this world and go to the Father. Having loved his own who were in the world, he loved them to the end. The devil had already put it into the heart of Judas son of Simon Iscariot to betray him. And during supper Jesus, knowing that the Father had given all things into his hands, and that he had come from God and was going to God,got up from the table, took off his outer robe, and tied a towel around himself. Then he poured water into a basin and began to wash the disciples' feet and to wipe them with the towel that was tied around him.He came to Simon Peter, who said to him, 'Lord, are you going to wash my feet?' Jesus answered, 'You do not know now what I am doing, but later you will understand.' Peter said to him, 'You will never wash my feet.' Jesus answered, 'Unless I wash you, you have no share with me.'Simon Peter said to him, 'Lord, not my feet only but also my hands and my head!' Jesus said to him, 'One who has bathed does not need to wash, except for the feet, but is entirely clean. And you are clean, though not all of you.' For he knew who was to betray him; for this reason he said, 'Not all of you are clean.' After he had washed their feet, had put on his robe, and had returned to the table, he said to them, 'Do you know what I have done to you? You call me Teacher and Lord—and you are right, for that is what I am. So if I, your Lord and Teacher, have washed your feet, you also ought to wash one another's feet. For I have set you an example, that you also should do as I have done to you. Very truly, I tell you, servants are not greater than their master, nor are messengers greater than the one who sent them. If you know these things, you are blessed if you do them. When he had gone out, Jesus said, 'Now the Son of Man has been glorified, and God has been glorified in him. If God has been glorified in him, God will also glorify him in himself and will glorify him at once. Little children, I am with you only a little longer. You will look for me; and as I said to the Jews so now I say to you, "Where I am going, you cannot come." I give you a new commandment, that you love one another. Just as I have loved you, you also should love one another. By this everyone will know that you are my disciples, if you have love for one another.'